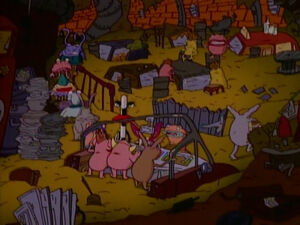 The 
Cafeteria
is where students of
The Monster Academy
eat their meals. The cafeteria is shown to be staffed alternately by students and dedicated cafeteria workers. The majority of the tables in the cafeteria are the tops of cars—if cut off or buried is not clear.
Appearances
The cafeteria is featured in the following episodes:
Krumm's Pimple
Joined at the Hip
Chip off the Old Beast
Spontaneously Combustible
Krumm Gets the Dreaded Nolox
I Dream of Snorch with the Long Golden Hair (featured briefly)
Puppy Ciao
Monster Who Came In From the Cold
The Rival
Ship of Fools
Krumm Gets Ahead
Gallery
Ad blocker interference detected!
Wikia is a free-to-use site that makes money from advertising. We have a modified experience for viewers using ad blockers

Wikia is not accessible if you've made further modifications. Remove the custom ad blocker rule(s) and the page will load as expected.