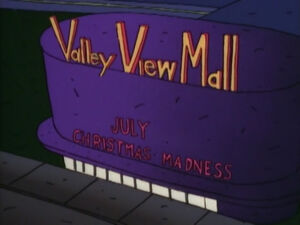 The Valley View Mall is a human shopping mall featured in Gone Shopp'n. It appears again in Slumber Scare.
Stores
Moore Sports Wear
Silvia's Inedibles!
Nature's Blunders!
Moore's Disaster Shop (offering free plague kits)
I (heart) Corkscrews
Crystal Clear (home of "the lamp")
Atomic Annie
Plastics Heaven
De-odorant Unlimited
Moore's Glaciermart
"I'm O.K." Dysfunctional Outlet Store
Herb's Books
The Pointier IImage
Coffee Cup
Limees (apparently a British shoppe)
Moore Bistro
Moore Co.
A is A
Moore Worth
Delousing Inc (comming soon)
Western Wear
The Pet Rat Store (possible name)
Big Spleened Gal Boutique
Slab O' Fat Health Foods
Books Unlimited (seen in Slumber Scare)

Stores with unclear or only partially seen signs
Duff's (unclear)
Unnamed Jewelry Store
Shop next to Limees with rectangular sign
Unknown store starting with "Prop"
Store with Axe sign
G_nd
Mestph__
Co__
Trivia
Herb's Books, as well as the Six stores theat carry the name "Moore," are likely references to assistant director Herb Moore.
Ad blocker interference detected!
Wikia is a free-to-use site that makes money from advertising. We have a modified experience for viewers using ad blockers

Wikia is not accessible if you've made further modifications. Remove the custom ad blocker rule(s) and the page will load as expected.